lynne myers, oct 15, 2020
---
joseph ernst and jan van bruggen of sideline collective have reorganized all 1,364 pages of the king james bible into alphabetical order. this immense undertaking marks part of a project to convert seminal books into something objective, quantifiable, and analytical: data. and with this first book, 'BIBLE THE', the pair have broken down the world's most famous publication, allowing us to see which words are used most often.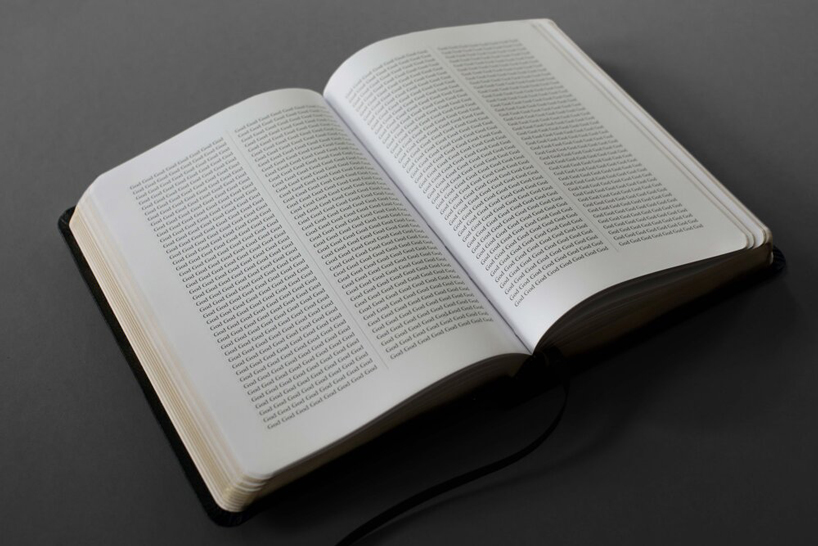 images courtesy of sideline collective
to make BIBLE THE, ernst and van bruggen used a custom-made piece of software. they've taken the entire text of the bible and reorganized it alphabetically from a-z. this distills each text down to its lowest common denominator. it highlights the importance people tend to place on the order of said words – and their meaning – and allows for new and interesting interpretations of the written word, in much the same way as an abstract painting might.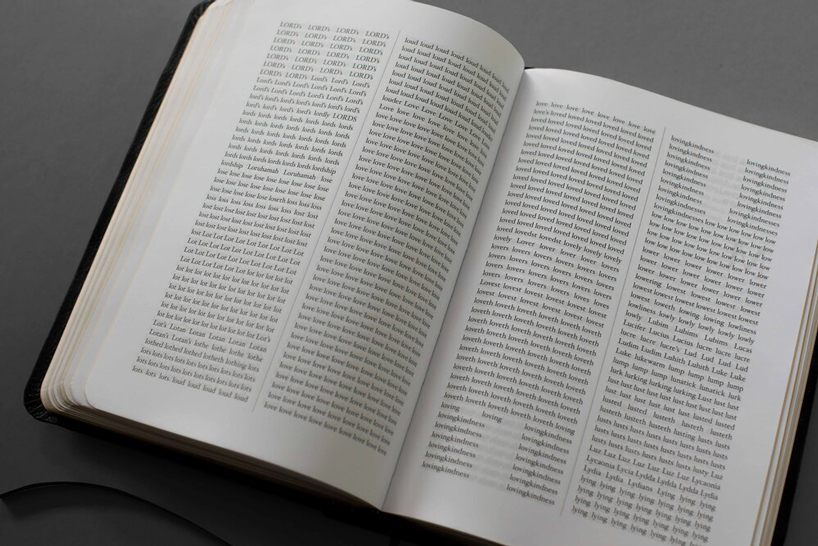 by analyzing the words found in the bible, sideline collective found that it skews towards a positive bias. for example, 'good' is used 720 times, 'bad' only 18. 'love' is used 308 times and 'hate' 87 times. and 'happy' less so, at 28 times, but still over twice as much as the 11 uses of 'sad'. 'right' features 358 times, 'wrong' just 26. and 'life' 451 times, still more than the 371 instances of 'death'.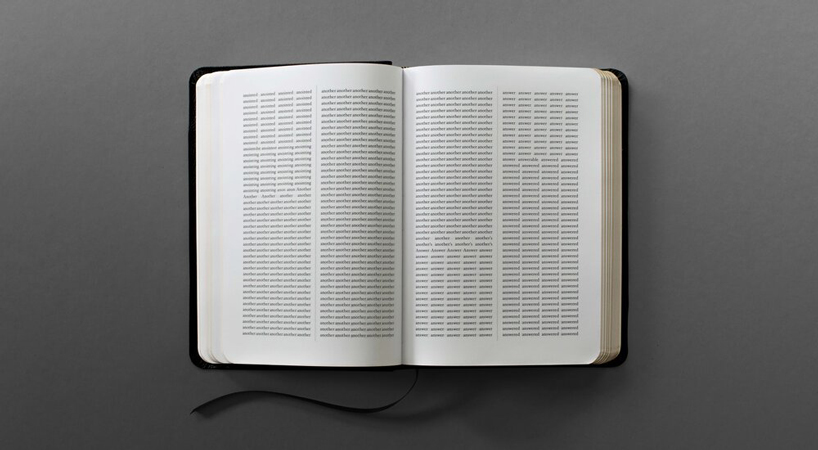 this positive trait also translates into biblical subject matter. for example, 'heaven' features 582 times, whereas 'hell' only 54. there are 94 'angels' to 55 'devils', 96 'saints' to 48 'sinners', and 302 'blessed' to a mere 3 'damned', and a total of 27 'miracles'.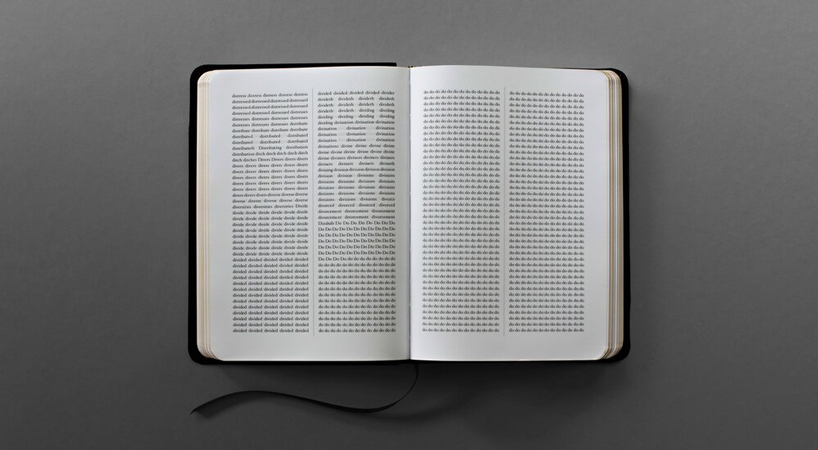 unsurprisingly, there is no 'sex' or 'intercourse' in the bible, but there are 17 'concubines', 9 'adulterers', 8 'harlots', 4 'sodomites', 3 instances of 'copulation', 3 instances of 'conception", 2 'whores', and 1 'prostitute'. socio-economically, there are twice as many 'givers' as 'takers' – 93 'poor' and 81 'rich', 77 'rulers', 237 'prophets', '30 nobles', 480 'servants', 400 'priests', 30 'soldiers', 17 'publicans', 27 'workers', 5 'lawyers', 9 carpenters, 1 'fishermen', 6 'lepers', 3 'beggar's, and 1 'slave'.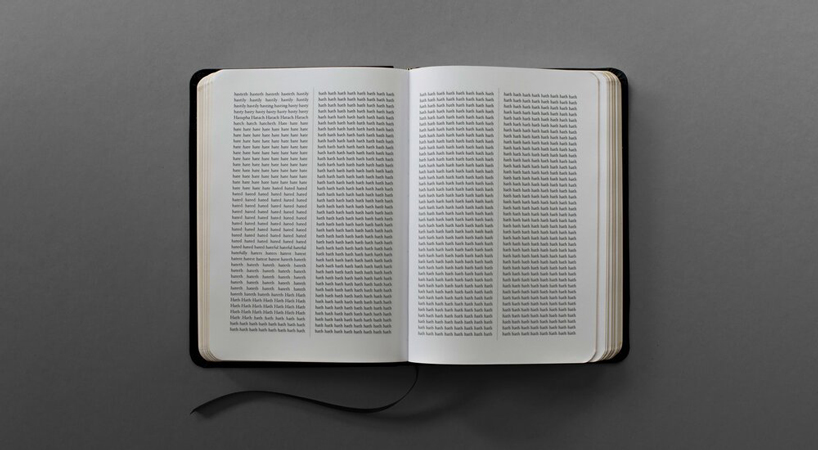 in terms of diversity, 'white' dominates by about 4:1, featuring 75 times, with 'black' just 18 times. but the bible does appear to feature a diverse cast: 256 'jews', 254 'philistines', 98 'egyptians', 61 'syrians', 14 'greeks', 10 'cushi' (north africans), 10 'assyrians', 7 'romans', 7 'samaritans', 5 'persians', 4 'babylonians', 2 'libyans', 2 'christians', a single 'arab', and an equal amount of 'believers' and 'infidels'.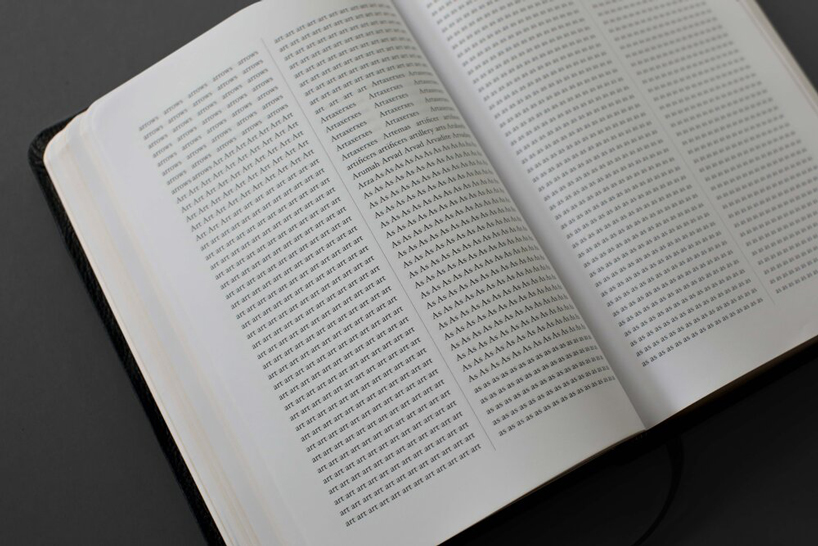 gender-wise, the data suggests that the bible is overwhelmingly biased towards males. at it's most extreme, the bible has 8,472 instances of the word 'his' and only a mere 3 instances of 'hers'. and while this gender bias persists across the male-female divide, for the most part, it is less pronounced. there are 1,653 references to 'men' and only 181 to 'women'. 'he' is used 10,404 times, 'she' only 982. 'him' 6,659 times to 1,994 uses of 'her'.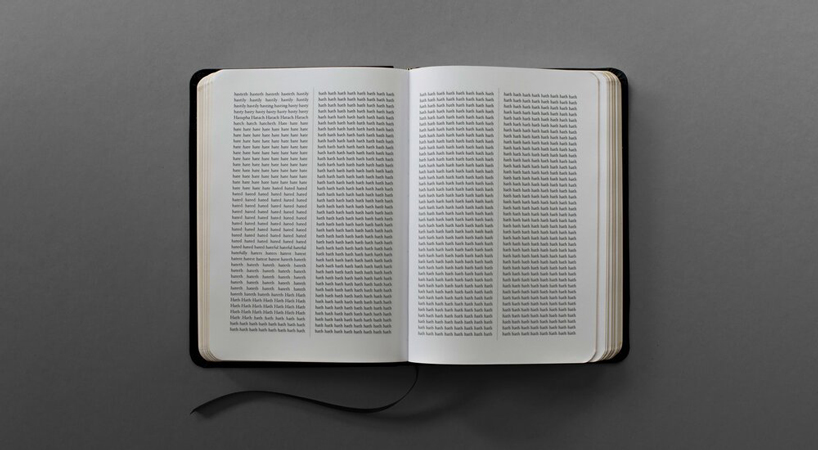 this gender bias extends beyond pronouns, to other gender-specific identifiers. there's only 252 'daughters' to 1,094 'sons', only 8 'mothers' to 548 'fathers', only 4 uses of the term 'lady' to 7,830 uses of the term 'lord', 3 'queens' to 340 'kings', and just 5 uses of 'goddess' to 4,440 uses of 'god'.